The 2024 Small Business Lending Forum is thrilled to welcome thought provoker, award-winning author, and podcast host

John Garrett

 as its keynote speaker.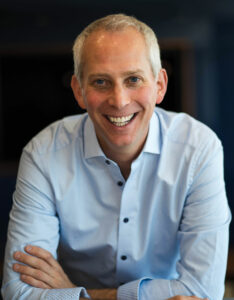 John Garrett—thought provoker, award-winning author, and podcast host—is on a mission to create better workplaces. What the two-time Emmy nominee may do best is champion the human side of professionals, consulting with organizations to develop more productive cultures while shining a light on their people's rich lives outside of work. Delivering inspiring keynotes about his research and recording over 500 podcast episodes of What's Your "And"? landed him on Accounting Today's list of the top 100 most influential people in the profession.
John received his bachelor's degree from the University of Notre Dame, where he earned a letterman jacket as a trombone player in the marching band. He went on to pass the CPA exam and received his certified public accountant certificate while working at PwC and performing stand-up comedy as a hobby.
Since then, he's been on stage over 2,000 times and tracks from his debut album, Outside the Box, can be heard on several channels on SiriusXM Satellite Radio and Pandora. He's also been on The Bob & Tom Show, featured in the New York Times, opened for Louie Anderson at resort casinos, opened for the band Train, and has been invited to perform at several comedy festivals.
John currently lives in Colorado and enjoys watching college football and eating cookie dough ice cream—especially at the same time.
For more information about John and the services he offers, visit TheJohnGarrett.com.
Company Culture Done Right
In this thought-provoking keynote, people-centric culture expert John Garrett explores the intersection of work and personal identity. Drawing inspiration from his own experiences and years of research, John delves into the ways organizations can prioritize employee well-being, foster open communication, and tap into the hidden talents and diverse interests of their workforce. With humor, anecdotes, and insights, John challenges traditional notions of professionalism, encouraging attendees to embrace their "And" – the outside-of-work passions and hobbies that make them human – and to create a work environment where everyone can thrive. This dynamic and engaging keynote invites leaders to consider the power of human connection and personal authenticity in the workplace, ultimately advocating for a more inclusive and fulfilling professional culture.
The three key takeaways are:
1. Helping leaders learn how to prioritize the well-being of their employees and promote a healthier work-life balance.
2. Discovering ways to foster a positive work environment and encourage employee engagement by valuing the worker as much as you value the work.
3. Encouraging everyone to pursue their personal interests and hobbies because it contributes to professional growth and success, as they bring unique perspectives and skills to the workplace.
The Small Business Lending Forum is an invite-only event. If you received an invitation from Orion First, please click the link to register at Eventbrite. If you haven't received an invitation and would like to attend please contact us.
Sheraton Grand at Wild Horse Pass
This luxury resort is just 11 miles from Phoenix Sky Harbor International Airport (PHX), acting as the perfect gateway to Arizona attractions and the desertscape. Resort amenities are indigenous-inspired, from their Aji Spa treatments to their world-class Native American cuisine at Kai restaurant. Two championship golf courses were designed by renowned golf architect Gary Panks and feature original challenges with scenic desert vistas.
Book Your Stay
Take advantage of our exclusive room block by using the link above to secure your accommodation at a special discounted rate for the conference.
Optional Charity Golf Tournament & Lunch
› 8:30 am | Whirlwind Golf Club
Shotgun Start at 8:30 am. Please arrive by 7:30 am to check in, find your group, and hit the driving range.
Optional Cattle Drive & Wrangler Lunch
› 11:00 am | KOLI Equestrian Center
Picture the movie "City Slickers" where you'll work with other riders to round up some cattle and move them from KOLI equestrian center up and around Maricopa Wells and back. The goal is to work together to move the herd without any cows breaking away. And if so, going after the stray to return back to the herd. Group communication, focus, and teamwork will make this a fun and interactive event. After the drive we'll have a wrangler lunch with hamburgers and chipotle chicken sandwiches.
Opening Reception
› 6:00 pm | Sheraton Grand at Wild Horse Pass
Join us for a cocktail hour from 6 – 7 pm followed by dinner from 7 – 10 pm.
Schedule of Events COMING SOON
---
Optional Charity Golf Tournament
11:00am at the Wildfire Golf Club | JW Marriott Phoenix Desert Ridge
---
Opening Reception
6:00pm in the Capri Room
Join us for a cocktail hour from 6pm - 7pm followed by dinner from 7pm - 10pm.
Breakfast Buffet
7:30am - 8:30am on the Wildflower Terrace
---
Small Business Lending Forum
8:30am in Wildflower A/B
Our forum this year includes notable presentations and multiple breakout sessions focused on current issues facing our industry.
---
Evening Event
6:00pm outside the Meritage Restaurant on the Tavern Terrace
Get ready to get groove at the Friday Night Fever Conference Reception! We're hiring a disco instructor to lead us in some funky moves, so don your casual and colorful disco attire and get ready to hit the dance floor.
Welcoming Remarks
Dave Schaefer, CEO, Orion First
---
Trust in Partnerships
Keynote presented by Mikey Schaefer
Passion for the Customer Journey
We have asked our clients, "What does Customer Service Excellence mean to you?" This session will be an open review and discussion of their responses. Our panelists will share the tools they have implemented, and those they have planned, to remain successful in the constantly evolving customer journey. This will be a broad discussion of how lenders view the customer today and what next steps are on the horizon to stay "in tune" with their customer base.
---
Building Stronger Partnerships and Collaborations Through Digital Integrations
The API-first world is here, and it's more important than ever to be prepared to lead your organization in this interconnected ecosystem. In this session, our panel of experts will cover the latest industry trends and share real-world examples of how companies are leveraging APIs and other digital tools to empower their employees, deliver their products and services digitally, and improve their customer's experience through partnerships and collaborations. Discover how to stay ahead of the curve and make the most of the API-first world.
Economic Storm Clouds on the Horizon—What To Do
The US has seen massive changes in its economy over the last five years. With a global recession on the horizon and time of raising rates, how will businesses bear out? Do we expect the pace of change to continue? What areas should we be wary of? What are the new expectations of small business borrowers? This roundtable asks industry thought leaders across the product spectrum to share their views on how our industry is changing and what to expect.
Making Remote Work Work: Best Practices, Challenges, and Unintended Benefits
Remote work is here to stay, and it's more important than ever to make it work for your culture and bottom line. Join our session for a spirited conversation about what's missing, the challenges and benefits, and what employers are doing to make remote work WORK. We'll discuss best practices for maintaining a good culture, training tools, DEI, and coordinating the balance between those in the office and those working remotely. We'll also delve into the role of employee feedback, success measurement, and unintended benefits such as a more diverse workforce and the ability to tap into a wider pool of talent.
---
When Small Business Succeeds: Mission-Driven Investments and the Human Side of Lending
Join us for an interactive panel discussion on how mission-driven investments can support small business success. Our panel of experts will share their insights on the role of lenders in driving the financial success of small businesses and discuss how to strike the right balance between portfolio performance and living out your mission in meaningful ways. Attendees will learn about tools and strategies for using capital to make a difference and explore best practices for measuring and improving the success of small business borrowers.