The 2022 Small Business Lending Forum is thrilled to welcome businessman, educator, philanthropist, and current adjunct Professor of Finance at UCLA,

William Cockrum

as its keynote speaker.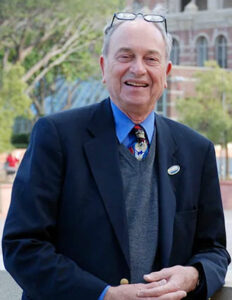 Professor Bill Cockrum has won numerous teaching awards, including recognition as the top entrepreneurial professor in the nation in a survey conducted by Business Week in 1996. He has become a legend for a case-study entrepreneurial finance class he has taught for more than 30 years, in which students learn the ins and outs of acquiring and sustaining the financing for organizations.
Prior to joining the UCLA faculty, Cockrum spent 25 years in financial services, initially as a marketer and last as CFO/CAO and one of the top senior officers at Becker Paribas Inc., a 3,000-employee investment banking firm. When the company was sold to Merrill Lynch in 1984, Cockrum began his second career as a consultant to chief executive officers. He serves as a consultant in a variety of industries on issues such as organization structure, strategy, marketing, finance and administration.
Shortly after starting consulting, Cockrum joined UCLA Anderson and, in 1988, became a full-time professor, teaching students the business and finance skills needed to succeed as entrepreneurs. Cockrum has taught at UCLA Anderson for 36 years. He currently teaches Entrepreneurial Finance, Leadership and Business Ethics; Real-World Challenges Leaders Face; and Investment Management. More than 7,000 students have passed through his classroom for these courses. He also is a member of the school's Board of Advisors, the Anderson alumni board, the advisory board of the Price Center for Entrepreneurship & Innovation and the advisory board of the Fink Center for Investment. He is a former member of the UCLA Foundation investment committee and a governor of the Foundation.
Cockrum was until 2019 a member of the advisory board of the Graduate School of Management of Cranfield University in Cranfield, England, as well as a visiting professor and a member of the advisory board of the Betteny Centre for Entrepreneurial Studies at Cranfield. From 2004 to 2013, Cockrum was a visiting professor at the Graduate School of Management at Warwick University in Coventry, England, where he won teaching awards each year from 2005 to 2012. Currently, Cockrum is a professor and member of the advisory board at the business school of Trinity College Dublin University, where he was awarded the top teaching award from students in 2016, 2017, 2018, 2019 and 2020.
Cockrum is a trustee of Educational Housing Services in New York City, a not-for-profit providing 4,400 beds to university students in the New York City area. He is chairman of the board's nominating, governance and compensation committee.
---
Entrepreneurship and the Pursuit of Opportunity
The spirit of entrepreneurship is a key characteristic for growing and expanding your business. In this discussion Professor Bill Cockrum will lend his insight into entrepreneurship in the finance industry. As an Adjunct Professor of Finance at the UCLA Anderson School of Management, Bill has been recognized as the top entrepreneurial professor in the nation in a survey conducted by Business Week. His background includes roles as a chief financial officer, senior officer for a 3,000-employee investment banking firm, consultant, and member of advisory boards. His consulting has focused on issues such as organization structure, strategy, marketing, finance and administration. And as a professor has taught more than 7,000 students on the business and finance skills needed to succeed as entrepreneurs, and help them help people and make the world a better place.
Opening Reception
6:30pm at the JW Marriott Phoenix Desert Ridge
Breakfast Buffet
7:30am - 8:30am on the Wildflower Terrace
Sponsored by Padfield & Stout, LLP
---
Small Business Lending Forum
8:00am - 4:00pm at the JW Marriott Phoenix Desert Ridge Resort
Our forum this year includes notable presentations and multiple breakout sessions focused on current issues facing our industry.
Lunch buffet at 11:30am, sponsored by Frandzel and AP Equipment Financing
---
Closing Reception
6:00pm at the JW Marriott Phoenix Desert Ridge Resort
---
SBLF Golf Tournament
9:00am at the Wildfire Golf Club
Developing Close Relationships with your Channel Partners
This session will explore how funders develop the kind of ongoing partnerships with their channel partners that create true value and lasting partnerships. From this session, you'll learn:
How funders can enlist all parts of the organization, from sales to underwriting, servicing and collections to build and sustain channel partner relationships.
What information, data or analysis can be shared between the funder and channel partner to enhance the full value chain.
Moderator
Quentin Cote, President and Chief Operating Officer, Orion First
Panel
Nick Gibbens, Vice President, Wintrust Specialty Finance
Julie Pray, Vice President of Operations, Midland Equipment Finance
Nick Ross, Vice President, Indirect Originations, Western Equipment Finance
Todd Wainwright, SVP, Head of Commerce & Strategic Partnerships, Amur Equipment Finance, Inc.
2022 and the New Paradigm of Talent Acquisition and Retention
In this pandemic era, the workforce has evolved and overnight the tables have turned, as employers now face new staffing dynamics that challenge those of the past. You are likely already familiar with aspects of this story – boomers are retiring at a record pace, inflation is ramping up, and scores of employees can (and will) demand more of their employer. Are you and your organization prepared for this evolving paradigm of talent acquisition and retention? The answer can't be to simply, "pay more". Employees now demand a work-life balance, flexible work schedules, supportive team culture, and a company whose hiring practices are free of geographical restrictions. So, what are you prepared to offer? In this session, you will hear from industry peers as they discuss the future of talent acquisition and retention. What aspects are changing for the better? And alternatively, how to address those that have become more challenging. You will hear that some organizations have chosen to redesign their infrastructure to better support different types of employees (remote, hybrid), some have executed on deepening their focus on company culture, and many have embraced outsourcing (by partnering with experts who allow the employer and their organization to focus on their core talents and competencies). Join us and see if it's time for you to adapt new ideas and practices that can improve your existing staffing framework.
Moderator
Bob Rinaldi, President, Rinaldi Advisory Services
Panel
Brylee Horning, Vice President, Human Resources and Compliance, Orion First Financial
Dave Rhoads, Chairman & Founder, Blue Street Capital, LLC
Ken Schneider, Senior Vice President, Business Development & Underwriting, Great American Insurance Group
The View from the U.S. Chamber of Commerce
As the world's largest business organization, the U.S. Chamber of Commerce represents the business community as an advocate, partner, and network, helping them improve society and people's lives. As Vice President of Small Business Policy, Tom Sullivan harnesses the views of small businesses and translates that grassroots power into federal policies that bolster free enterprise and reward entrepreneurship. In this session Tom will give a quick national overview of small business data and trends and then provide his perspective on the small business borrower. In a fireside chat with Dave Schaefer, Tom will provide insight on what small business owners expect from their lenders, and how servicing small businesses can build lenders' brands and add value beyond typical financing needs.
Presenter
Tom Sullivan, Vice President, Small Business Policy, U.S. Chamber of Commerce
Building your Platform for Integrated Partnerships
What are hallmarks of a technology platform focused on making the most of partner relationships, and connects all steps of the contract lifecycle to maximize profitability? In this session the panelists will discuss:
Best practices for investing in technology that enables your company to leverage your partner relationships
How to gain more insight into your business and put data in the hands of your decision makers.
Moderator
Paul Marcoe, Chief Technology Office, Orion First
Panel
Greg Clark, Director of Business Development, Nôrthteq
Dan Thompson, Senior Vice President, Credit & Risk Management, Midland Equipment Finance
David Trost, Vice President, Product & Analytics, Orion First Financial
Customer Experience Strategy for the Future
This session will consist of a panel of industry professionals who acquire their borrowers in differing ways — End User, Vendor, Third Party, and portfolio acquisitions — or a combination of the four. We will explore strategies for retaining the customer through best practice experiences in application processing and review, servicing, and end of term.
Moderator
Matt Larson, Vice President, Customer Service, Orion First
Panel
Mike Coon, First Vice President – Portfolio Manager, Hanmi Bank – Commercial Equipment Finance Division
Bill Mattocks, Vice President, Division Sales Manager -Construction, Transportation and Waste Group, Midland Equipment Finance
Jena Morgan, Chief Operating Officer, KLC Financial